What are Continuous Caption Feeds?
The Continuous Caption Feeds platform is an essential tool for broadcasters and television stations that desire to harness their captions for web and mobile audiences, as well as create a knowledge repository. This feature is a great way for broadcasters to feed their captions continuously into Recapd where they are stored indefinitely. Information is a critical commodity for broadcasters, and using Recapd broadcasters can archive, retrieve and search through all countless hours of captions in one central location in a robust and secure manner.

Built on cutting-edge technology: The core of Recapd uses a java-enabled platform to continuously capture Line 21 captions received from a provider, followed by encoding them to be web-readable. The platform has been built for providing high performance including scalability, reliability and robustness to ensure that we receive your captions 24x7.
Bookmarks
A customer can search through captions, as well as securely retrieve captions by creating bookmarks. A bookmark is created by specifying a start and end time, thus retrieving captions for that time period. The captions contained in a bookmark can be edited and output in different formats ranging from a simple text file to time-stamped outputs like sami or srt.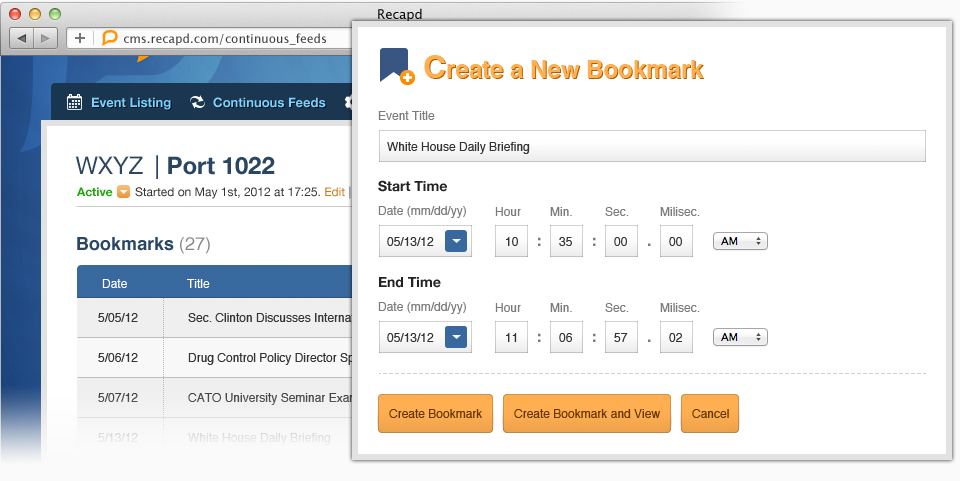 What are the Benefits?
A Vault for your Captions
Recap'd offers a robust, scalable and secure platform to capture, search, and retrieve your captions in one central location online.
Captions become Knowledge
Using the powerful tools in Recap'd, you can accurately search and retrieve information contained in your captions. Over time, convert your broadcast assets to a power-house of knowledge to gain a lead over your competitors.
From Broadcast to Web in Seconds
Repurpose your captions broadcast live on television for the web and mobile, quickly and conveniently.
Meet Legal Compliance
Recap'd will enable companies to meet compliance with the Twenty-First Century Communications and Video Accessibility Act of 2010 (CVAA) that requires broadcasters to caption video (pre-recorded, live and near-live) if it is shown on TV with captions.
Output Captions in Different Formats
Recap'd enables you to output your captions in different formats ranging from plain text to time-stamped formats like sami. We would be happy to meet requests for custom formats not currently supported.
Security
We take security very seriously. The Recap'd solution ensures the highest standards in security to make sure that our customers' content remains secure and confidential. We restrict the delivery of captions to only verified IP addresses to maintain a secure feed of captions into Recap'd.
Seen Enough?
Contact Recapd for a live demo and tell us how we can help.